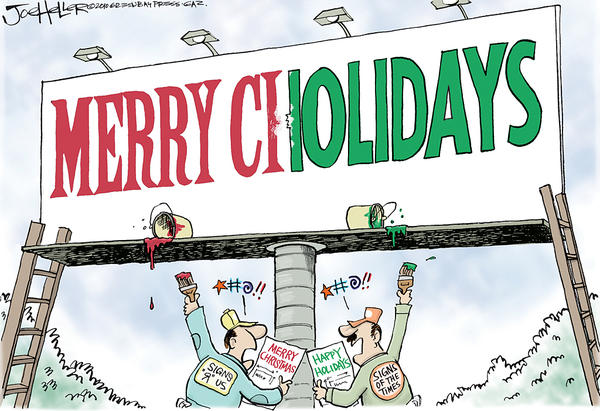 Several years ago, in an effort not to offend their clientele, many large chain stores adopted a politically correct stance on Christmas.  Employees were told to say happy holidays rather than Merry Christmas, stores removed all references to Christ in their selection of in-store music, and Christmas trees were re-named holiday trees.  The outcry was loud and sustained.  People wanted Christmas back.  Stores were boycotted, letters were written and in-the-end the stores repented.  Their attempt at political correctness wound up offending the very people they were trying to woo.  Who would have guessed over 90% of Americans celebrate Christmas, and of those a large majority want the birth of Jesus to remain the focus of the holiday?  And although the private sector seems to have gotten the message, the public sector still needs some work.
These days, the schools all give kids a "winter break." It always seems to fall around December 25, but heaven forbid that a teacher should ever say why. School concerts feature songs like Santa Got Run Over by a Reindeer, rather than Silent Night or Away in a Manger.  There was a time in America where we would see nativity displays on courthouse lawns. Our children would sing Christmas carols at school. At work, people could count on a day off for Christmas – maybe even two days off, the second one being Christmas Eve.  Almost everyone remembers those days fondly. Some think we'll never see them again.  But
Christmas is a time of hope!  America is a special place. This was a nation dedicated to God at its inception.  We were founded on the principle that we are endowed by our Creator with certain unalienable rights. The framers of our constitution constantly prayed for God's guidance, and His blessing on their efforts.   This is not a country where we should celebrate Christmas by retreating to our homes, surrounding ourselves with our family, closing the door, and abandoning the rest of the world to consumerism and eggnog.  It's a chance to share Christ, to tell the world not just THAT He came but WHY He came.  Sure there are those who don't want to hear the good news, but there are also those who do.  And that's the way it's always been.  This is ONE nation, under God and it's up to us to say so.  It's not only state legislators who have the power to change society. It's not only people in Washington D.C. who can make a difference. Each of us can help bring back the America that celebrated Christmas as the birth of Christ, not for the presents and the elves.  By your presence, by your faith and by being the light of the world, you can help change the culture.  Smile. Celebrate. Sing about the true meaning of Jesus, not just the Jingle Bell Rock. When you do, you're spreading the real meaning of Christmas to a culture that's forgotten what it's all about.  I'm convinced that people want Christmas to be about more than just cool gifts and a nice meal.  That's why the outcry was so strong when stores tried to relegate Christmas to little more than a chance to increase their bottom line by urging people to give presents to their family and friends.  The notion that we will offend someone by wishing them a Merry Christmas is just plain silly.
I have Jewish friends who wish me Merry Christmas and I in turn wish them Happy Hanukah.  When America once again celebrates Christmas as the birth of our Savior, it will be because ordinary folks like you and me never stopped wishing people a Merry Christmas!  So from all of us at the Montana Family Foundation, our staff and our families, we wish you a very Merry Christmas and a Happy, and Blessed New Year!